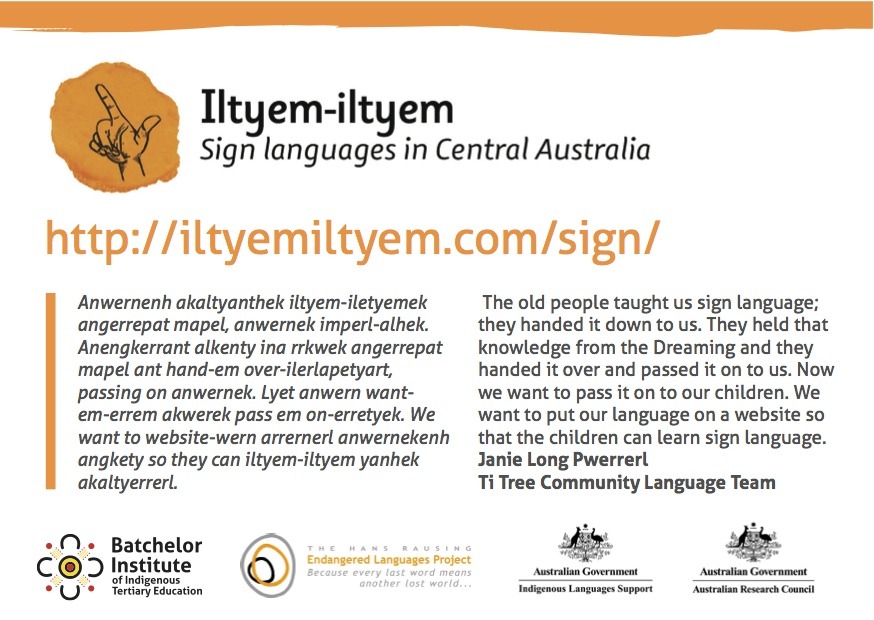 The day has arrived, and it's time to launch iltyem-iltyem. The website is now ready for public view, and contains over 400 clips of sign language material from Central Australia.
We hope that this website will support Indigenous people in Central Australia to maintain, teach and learn their sign languages. We hope that the website also raises the profile of sign languages and their importance for communication in Central Australian communities. An understanding how sign languages work should be a part of the tool kit for education and health programs throughout the region, and we hope that this website will contribute to this understanding.
Batchelor Institute are very proud and honoured to acknowledge the contribution of the language team from Ti Tree to this project. This group of amazing Anmatyerr and Warlpiri women have worked with us through the pilot phase of this project, to the stage of having a publically available repository of their sign language clips available for public view.
Thankyou to April Pengart Campbell, Clarrie Kemarr Long, Eileen Pwerrerl Campbell, Molly Napurrurla Presley, Janie Pwerrerl Long, June Nakamarra Ross, Marie Nakamarra Long, Kwementyay Pengart Campbell and Seraphina Presley. We also thank staff and students at Ti Tree school, who have provided a home base for the project at Ti Tree and supported this project since it started.
We also wish to thank Lizzie Ellis for her Ngaatjatjarra contributions, which are also available for public view on Iltyem-iltyem. Lizzie is a Batchelor Institute graduation from the Bachelor of Australian Languages and Linguistics, and has extensive experience in consultancy work in interpreting and translation, education and language documentation.
Today the leader of this team, April Pengart Campbell, will graduate with her Diploma of Education. April will continue in her role as an educator in her community at Ti Tree as a teacher at the Ti Tree School. Congratulations April, from all of us.
Many other people in Central Australia have contributed to the Iltyem-iltyem project. We hope to publish clips from these participants in the future, following further consultations on the website. Thankyou to: Janie Mpetyane, Gracie Mpetyan, Hilda Ngamperle, Amy Ngamperle, Elsie Numina, Eileen Mpetyan, Rachel Dinnie and Lucy Price from Wilora; Jack Jangala Cook, Lily Stafford, Patsy Morton, David McCormack and Rosina McCormack from Yuelamu; Katie Kemarr Morton, Mary Kemarr Morton, Lena Pwerl, Lena Skinner, Mavis Pengart, Rosie Ngwarrey Kunoth, Dorothy Kemarr Kunoth and Lucky Kngwarray Morton from Utopia.
Thanks also to Jenny Green and Gail Woods, the linguists who conceived of this project and whose research and language skills have led the documentation of Central Australian sign languages. We also thank Ben Foley, whose media skills and design finesse have made the website a reality. Ben has worked with language speakers and linguists for many years, since his time making CD Roms at Halls Creek over a decade ago. Fortunately, he came to Central Australia to work for CAAMA and fell in with the linguist tribe here. We are deeply indebted to Ben and his patience with our crazy ideas.
There are many other people who have assisted with the project through advice, archival curation, and in checking transcriptions and translations: David Wilkins, David Nash, Myfany Turpin, Nick Thieberger, Adam Schembri, David Nathan, Zania Liddle, Jeanie Bell and Peter Stephenson. We also thank Jenny Green, Christine Bruderlin and Jenny Taylor for contributing artworks, and acknowledge the support of the Institute of Aboriginal Development (IAD) in using artworks that are part of the IAD Picture Dictionary Series.
We also acknowledge the support of the Australian Government's Indigenous Languages Support (ILS) Program which has funded this project since 2011. Batchelor Institute director Adrian Mitchell will today announce a new triennial funding agreement with ILS for Language Centre support activities in NT and WA. The Iltyem-iltyem project forms a key part of the work we will continue to do in documenting sign languages, songs and narrative arts in Central Australia throughout the next 3 years.
Thanks everyone who has followed this blog through the development of the website. We will probably keep posting here for a while, but the website will eventually take over as the place where we post updates about the iltyem-iltyem project. Please take a moment to visit https://www.iltyemiltyem.com/sign/ and register to view sign language clips. The site has been tested, but we do expect a few glitches (hopefully not many). All feedback is welcome!
Margaret Carew