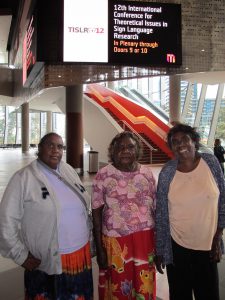 The Iltyem-iltyem team recently attended a Sign Languages Conference at the Melbourne Convention and Exhibition Centre (4-7 January 2016). This was the Theoretical Issues in Sign Language Research Conference (TISLR). TISLR is an international conference held every three years, in different places around the world. This was the first time for TISLR in Australia. April Pengart Campbell, Clarrie Kemarr Long and Janie Perrwerl Long from Ti Tree, along with Ngaanyatjarra linguist Lizzie Marrkilyi Ellis were there to represent Indigenous sign languages from the Central and Western Desert regions of Australia.
Jenny Green from the University of Melbourne and Margaret Carew from Batchelor Institute were also part of the team that presented at TISLR. For the last 3 years this team has been working on a project to record Sign Languages and to create an online dictionary resource to help people to learn more about these important ways of communicating. Although many presentations at the conferences were about sign languages used by deaf people, our presentation showed that sign languages are also used by hearing people, and in many different kinds of situations.
The paper was well received by the conference and many people spoke to April after the talk. They commented on how well the information was presented, with language maps and videos. They enjoyed seeing Indigenous people presenting about their own sign and spoken languages. Some commented on how important this work is, to record and document Indigenous sign languages. Our talk raised awareness Indigenous sign languages from Australia – some people from other countries did not even know that Indigenous sign languages exist. We feel proud of our work on this project and the conference feedback encourages us to keep working on sign languages.
There was also a sign poster on display in the poster sessions, with information about kinship signs from the Western Desert, Central Desert, Cape York and Arnhem Land. This is a project between Lizzie Ellis (ANU), Jenny Green, Alice Gaby (Monash University) and Anatasia Bauer (University of Cologne).
Our team learned a lot about sign languages from around the world and witnessed how people combine different spoken and signed languages in a multilingual and multimodal situation. For example, during the conference, some talks were presented in speech and translated into Auslan and American Sign Language, and some other sign languages such as Japanese Sign Language, Finnish Sign Language and the sign language of the Netherlands (SLN). Some people presented in sign, and they were translated into spoken English and other sign languages. The talks were also presented in written English on the main screen. It was amazing to watch the interpreters translating between all these signed and spoken languages and we would like to congratulate the interpreting team for their excellent work. Thanks also to Karen Mezentsef for her support during the week. And lastly, a big thanks to the conference organisers Adam Schembri, Gabrielle Hodge, Trevor Johnston, Lori Whynot and Stephanie Linder!