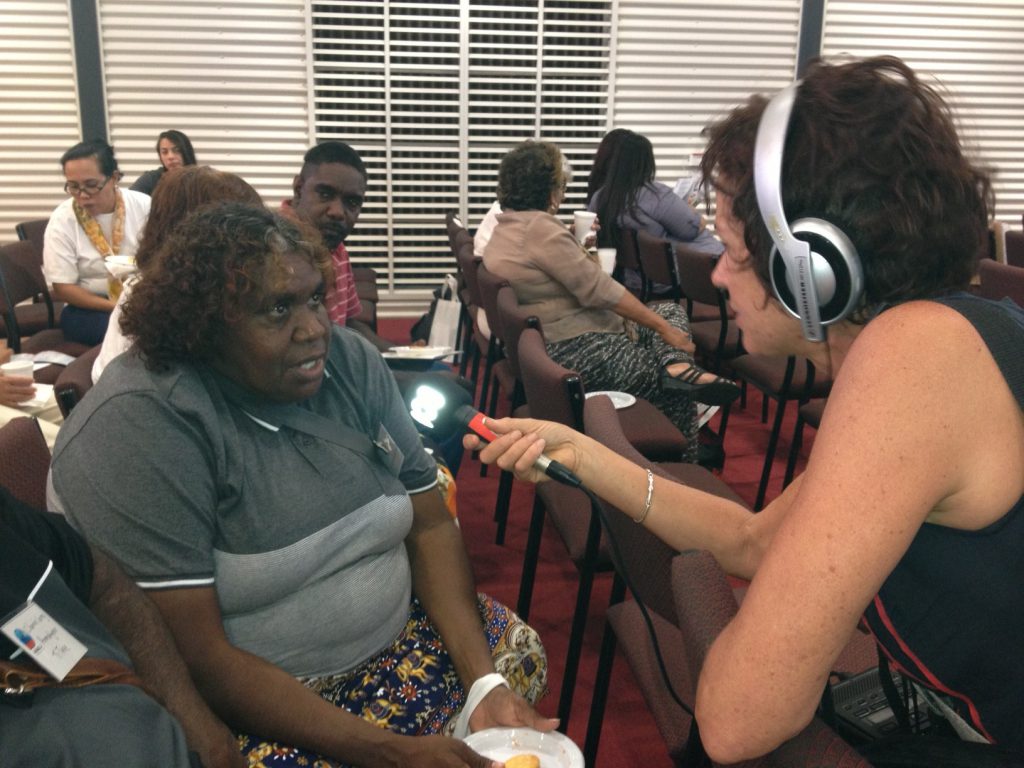 In September 2014 we were proud to present the Iltyem-iltyem project at the WANALA Conference in Broome.
We presented two workshops called: Iltyem-iltyem 'Central Australian Sign Language': using video and the web to present Sign Language.
Presented by: April Pengart Campbell, Clarrie Kemarr Long and Margaret Carew
In this workshop, participants learned how Anmatyerr people use their hands to communicate. This form of communication is called iltyem-iltyem; the Anmatyerr name for Central Australian Sign Language. April Campbell and Clarrie Long discussed the sign language that they use at home with family, on hunting trips and as part of everyday communication in their lives at Ti Tree in Central Australia. April and Clarrie demonstrated a number of different kinds of signs – such as kinship signs, people signs, signs for animals and plants, signs for coming and going, actions such as drinking and eating, signs for different times of the day and night, and also signs that express emotions and feelings. They also talked about the Iltyem-iltyem project, which involves recording signs on video and presenting them in an online dictionary. Workshop participants had the opportunity to learn and practice signs with April and Clarrie. It was a chance to share and compare signs used by different groups.
Our presentations were filmed, and can be viewed from these links:
Overview of the Iltyem-iltyem project
April Campbell describes community leadership in language and culture projects at Ti Tree
Iltyem-iltyem teaching and learning session
Presenter profiles
April Pengart Campbell
April is an Anmatyerr woman from Ti Tree and is a teacher at Ti Tree school. For many years she has been teaching Anmatyerr to children in the school, working in partnership with elders to maintain language and culture through the school program. Alongside from her work in teaching, April has collaborated on many projects in art, performance, publishing and media.
Clarrie Kemarr Long
Clarrie Kemarr Long is a senior Anmatyerr elder, and lives at Nthwerrey (Ti Tree Station), near Ti Tree in Central Australia. She is an important knowledge holder in this region and a leader of women's ceremonial performance. Clarrie is committed to teaching young people and works closely with the staff at Ti Tree school in the Anmatyerr language and culture program at the school. Clarrie has collaborated on many language and culture projects over many years, contributing her knowledge through film, publishing and performance to ensure that it is available for future generations.
Margaret Carew
Margaret Carew is a linguist at Batchelor Institute, based in Alice Springs. Margaret has worked with April Campbell and Clarrie Long on a number of projects since 2006, including the Iltyem-iltyem sign language project.
April and Clarrie also attended a meeting of the Western and Northern Australia Language Alliance, a new advocacy group for Indigenous language speakers in WA and the NT. April is now the Central Australian representative for WANALA.
We are grateful to the support of the Nyamba Buru Yawuru corporation, the Australian Government's Indigenous Languages Support program, Batchelor Institute and the Centrecorp Foundation.